India's most idyllic state-better known as God's Own Country- is today one of the most sought after tourist destinations in Asia. Secluded beaches, palm, fringed backwaters mist clad hill stations, lush tropical forests, water falls, exotic wildlife, monuments, art forms and festivals give it a distinctive charm. Apart from being a tourist destination, Kerala is also India's most advanced society. 100% literate, the State has India's highest density of science and technology personal. India's highest Physical Quality of Life Index (PQLI). India's highest life expectancy and lowest infant mortality rates. And is India's cleanest, most peaceful State.
Geography
Kerala is located on the southwestern tip of India with the Arabian Sea on the west and Western Ghats towering 500-2700m on the east. The State is divided into three regions - the coastal lowlands, the fertile midlands and the highlands. The lowlands of Kerala are networked by endless backwaters and the deltas of forty-four rivers. The midlands are rich with cashew, coconut, areca nut, tapioca, banana, rice, ginger, pepper, sugarcane and vegetable plantations. The forested high lands abound in tea, coffee, rubber and spice plantations and wildlife reserves.
its green and green everywhere.....
It is a purified world in Kerala, the land of trees. A big, spreading tree purifies as much air as a room air-conditioner. And the former is never switched off. The prolific, bustling, vegetation acts like a massive, biological, air-filtration plant working round the clock, round the year. Hence spending days in Kerala countryside is as if spending in an air- purified environs; some times better than it. So is the rejuvenating effect of the lush greenery of the state.
Kerala is a land of rivers and backwaters. Forty-four rivers (41 west-flowing and 3 east-flowing} crisscross the state physique along with countless runlets. During summer, these monsoon-fed rivers will turn into rivulets especially in the upper parts of Kerala.
Kerala is a green strip of land, in the South West corner of Indian peninsula. It has only 1.1 8 per cent of the total area of the country but houses 3.43% of the the country's population.
In 1956, when the states were reorganized, Kerala was formed after tying the princely states of Travancore and Cochin with Malabar, a province under Madras state.
Kerala may be divided into three geographical regions: (1) High lands, (2) Midlands and (3) Lowlands. The Highlands slope down from the Western Ghats which rise to an average height of 900 m, with a number of peaks well over 1,800 m in height. This is the area of major plantations like tea, coffee, rubber, cardamom and other spices.
The Midlands, lying between the mountains and the lowlands, is made up of undulating hills and valleys. This is an area of intensive cultivation. Cashew, coconut, areca nut, cassava (tapioca), banana, rice, ginger, pepper, sugarcane and vegetables of myriad varieties are grown in this area.
Click to View Read More
It is a purified world in Kerala, the land of trees. A big, spreading tree purifies as much air as a room air-conditioner. And the former is never switched off. The prolific, bustling, vegetation acts like a massive, biological, air-filtration plant working round the clock, round the year. Hence spending days in Kerala countryside is as if spending in an air- purified environs; some times better than it. So is the rejuvenating effect of the lush greenery of the state.
The wanton growth of trees makes Kerala a herbarium. The four month-long, copious monsoon and recurrent flurry make this land a perfect nursery for all living beings. Loitering under the canopy of the foliage, you will feel blossoming the dreams. Thus, on a sojourn in Kerala, away from the rough and tumble of cities, you're breathing freshly purified air all the time.
Flora:
Kerala has over 25% of India's 15,000 plant species. Among them include endangered and rare species, flowering plants, fungies, lichens and mosses. The state's forest wealth include tropical wet evergreen, semi-green and tropical most deciduous. Teak, Mahogany, Rosewood and Sandalwood are common, the forests abound with orchids, anthirium, balsam, and medicinal plants. banyan figs, bamboo as well as 40,000 years old grasslands. Mangroves are seen in coastal areas and low, morass lands. So fertile is the state, thanks to rivers and dams that are replenished by copious rain in Western Ghats.
Historical Kerala
Kerala is truly the undiscovered India. It is God's own country and an enchantingly beautiful, emerald-green sliver of land. It is a tropical paradise far from the tourist trial at the southwestern peninsular tip, sandwiched between the tall mountains and the deep sea. Kerala is a long stretch of enchanting greenery. The tall exotic coconut palm dominates the landscape. There is a persistent legend which says that Parasuram, the 6th incarnation of Lord Vishnu, the preserver of the Hindu Trinity, stood on a high place in the mountains, threw an axe far in to the sea, and commanded the sea to retreat. And the land that emerged all from the waters became Kerala, the land of plenty and prosperity. Kerala is a 560-km long narrow stretch of land. At the widest, Kerala is a mere 120-km from the sea to the mountains. Gracing one side of Kerala, are the lofty mountains ranging high to kiss the sky. And on the other side the land is washed by the blue Arabian Sea waters. The land is covered with dense tropical forest, fertile plains, beautiful beaches, cliffs, rocky coasts, an intricate maze of backwaters, still bays and an astounding 44 glimmering rivers. Kerala's exotic spices have lured foreigners to her coast from time immemorial.
Earlier, Kerala was made up of three distinct areas. Malabar as far up the coast as Tellicherry, Cannanore and Kasargode with the tiny pocket-handkerchief French possession of Mahe nearby (it was returned to India in the early 1950's and is now administratively part of Pondicherry). This area belonged to what was once called the Madras Presidency under the British. The middle section is formed by the princely State of Cochin; the third comprises Travancore, another princely State.
Early Inhabitants of Kerala
Archaeologists believe that the first citizens of Kerala were the hunter-gatherers, the ting Negrito people. These people still inhabit the mountains of southern India today, consequently, they had a good knowledge of herbal medicine and were skilled in interpreting natural phenomena. The next races of people in Kerala were believed to be the Austriches. The Austric people of Kerala are of the same stock as the present-day Australian Aborigines. They were the people who laid the foundation of Indian civilizations and introduced the cultivation of rice and vegetables, which are still part of Kerala scene. They also introduced snake-worship in Kerala. Traces of such worship and ancient rites have been found among the Aboriginal tribes of Australia. Austric features can still be seen fairly and clearly among the people of Kerala today. Then came the Dravidians (The Mediterranean people). Dravidian absorbed many of the beliefs of the Negrito and Austric people, but they were strongly inclined to the worship of the Mother Goddess in all her myriad forms: Protector, Avenger, Bestower of wealth, wisdom and arts. The Dravidians migrated to the southwards, carrying their civilization with them, though leaving their considerable cultural input on their successors, the Aryans (Indo - Iranians). But Kerala is still strongly influenced by the Dravidian culture: urbane, cash-crop and trade oriented, and with strong maternalistic biases. The Aryans have made a deep impression on Kerala in late proto-historic times.
Jewish and Arabs trade's were the first to come to Kerala sailing in the ships to set up trading stations. The Apostle of Christ, St. Thomas is believed to have come to Muziris in AD 52 and established the first church in Kerala. Portuguese discovered the sea route to India from Europe when Vasco DA Gama landed with his ship near Kappad in Calicut in AD 1498. Slowly the Kerala society became a mix of people belonging to various sects of Christianity, Islam and Hinduism. The arrival of Portuguese was followed by the Dutch, the French and finally the British.The State of Kerala was created on the 1st of November 1956. The Keralites celebrate this day as 'Kerala piravi' meaning the 'Birth of Kerala'.
The Modern State of Kerala
The modern State of Kerala was created in 1956, when all the States in the country were reorganized on a linguistic basis. Malayalam (a palindrome) is the official language. Kerala is the smallest of the four southern States, but with the highest density in population. Keralites are proud to tell you that it has the highest literacy rate in the country (100 percent), the lowest rate of infant mortality and the leading female-to-male ratio (1,032 females to every 1,000 males), significant in a country where the gender bias is marked. Kerala also made history, when in 1957 it became the first State in the world to democratically elect a Marxist Government. Since then it has been ruled by various political parties from time to time and today politics continues to dominate conversation. Kerala is a land that remains isolated yet easily accessible. It is well connected by air, sea, rail and road. It is one of the most progressive States in terms of social welfare and physical quality of life. Kerala has India's largest concentration of science and technology personnel. History has helped the Keralites develop a cosmopolitan outlook too and language is not a barrier.
Backwaters:
Kerala's backwaters and lagoons stretch over 1900 km. Kerala lives along these backwaters. They snake over the state physique, bestowing paddy fields with good harvests, and provide the whole village with drinking water and other facilities. The backwaters refer to the large inland lakes of Kerala. Today these backwaters act as vital water ways for the transport of people and produce. They are often the only link between remote, isolated villages and crowded town pockets. It's an incredible experience to float on these soothing waters in a country craft to absorb this unusual representation of Kerala.

Alumkadavu :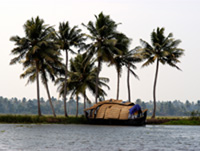 Gliding along the calm and serene backwaters flanked by green leaves and palms, seeing a rural Kerala preserved through the ages and completely hidden from the road is an enchanting experience to any visitor, more so while sailing a slow-moving, spacious Kettuvallam. Alumkadavu, a quiet spot in the town of Karunagapally - hardly 23 kms. North of Quilon (travel time: 30 min) has become a hot point of Kettuvallam building, with more than a hundred people involved. These huge, long and tapering barges were traditionally used to move tones of goods across kingdoms, with a portion covered with bamboo and coir serving as a rest room and kitchen for the crew. A familiar sight on the waters, these vessels are built entirely without using nails. Planks of jack wood are joined together with coir rope and coated with a caustic black resin made from boiled cashew kernels. With careful maintenance they last for generations.
Today, widely and appropriately called houseboats, they carry furnished bedrooms, modern toilets, cozy living rooms, a kitchen and even a balcony for angling. Some are powered by a 40 HP engine. At Alumkadavu, you can even find a floating conference hall, designed to seat 35, with a dais and a sophisticated public address system.
Calicut :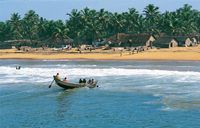 Up north in Kerala, the meandering backwaters of Calicut (Kozhikode) lie waiting to be discovered. With a bewitching beauty of its own. North east of the city, Elathur offers an ideal jump-off base into the Canoly Canal - a name taken after its British builder and administrator. The canal links itself to the Kallai River which unhurriedly threads through the city and offers its shores to Calicut's historic timber trade. The produce of which is believed to have even adorned the courts of King Solomon and Queen Sheba a few millennia ago. Further south lies Kadalundi with its charming bird sanctuary - haven to an amazing assortment of delightful water birds. Another river of the region - Korapuzha - is fast gaining popularity as the venue of the water sports festival - the Korapuzha Jalotsavam - staged every August.
Kumarakom :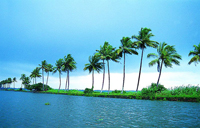 At Kumarakom, you could sail the backwaters in rented houseboats, which are poled by local oarsmen and are simply furnished with a living room, a bedroom and bath, together with a raised central platform creating a private sit-out for the passengers. Sections of the curved roof of wood or plaited palm open out to provide shade and allow uninterrupted views. Boat trains - formed by joining two or more houseboats together - make for a convenient mode of sightseeing when the company is large. You could even take a canoe out into the quiet lagoons and spend time angling. Make sure you sample Karimeen and fresh Toddy - the favorite fresh-water food and the local wine. This is an ideal place for backwater cruises. A beautiful backwater spot accessible from Kumarakom is Alleppey. On the shores of the enchanting Vembanad lake, 14 kilometers from Kottayam (travel time: 20 min), lies Kumarakom in its small-town hush. Redolent of restful ease.A boat ride into the countryside offers a close look into an engaging rustic life. Skiff-fishermen launching their cockleshell boats. Large flotillas of ducks waddling down to the water from thatched houses on the banks. Women, neck-deep in water, with their waist-length hair heaped in a crown, searching for fish with their feet
Alleppey (Alappuzha)-Kuttanaad: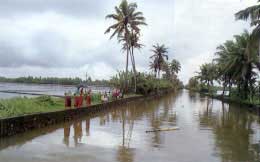 The sweeping network of canals, honey-combing the town of Alleppey (Alappuzha) has earned for the place its sobriquet - "The Venice of the East." Small, low-slung country boats are the taxis of this waterland. It is a heart-warming sight to see them carry a motley assemblage of cycles, goats, fisherwomen with cane baskets, school children, toddy-tappers with their knives and pots, duennas in white with gold earrings, Syrian Christian priests and a bare-chested boatman apiece.
Do not miss out on a ride into Kuttanad through shimmering, green paddy fields and tail-wagging, head-bobbing groups of ducks. The coir-workers too present an interesting sight as they soak coconut fibre in pools, beat them out and weave the tough brown strands into long ropes on spindles stretched between endless coconut trees. Alleppey becomes the cynosure of the eyes of the world in August - September, every year, as it plays host to the celebrated Snake Boat Races - a water regatta unique to Kerala.
Cochin :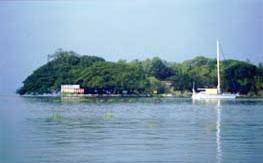 Come into Cochin (Kochi), Queen of the Arabian Sea. Believed to be the finest natural harbour in the world. With ferry rides commanding its breathtaking view. Cruise around man-made islands with lush green lawns sloping down to the water's edge. Cochin is the oldest European settlement in India. Recording a history of visitors who came, saw and stayed for hundreds of years. Layered impressions - Chinese, Arab, Jewish, British, French and Portuguese, are contained within its environment. Giant Chinese fishing nets that billow from massive teak and bamboo poles dot the entrance to the harbour. Silhouetted against the setting sun, they present a magnificent sight at the waterfront. A narrow, palm-fringed island, easily accessible from the mainland is where the Bolghatty Palace is situated. The palace was built by the Dutch in 1744. Later, it became the seat of the British Resident of Cochin and today this has been converted into a hotel run by the KTDC. The palace has a golf course on its grounds.
Quilon (Kollam) :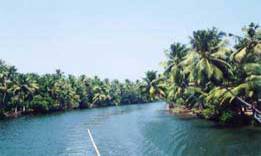 The charming old port city of Quilon (Kollam) on the banks of the picturesque Ashtamudi Lake is now known more as the centre of cashew industry. Traces of a once prosperous trade with China are still seen in the form of Chinese fishing nets, huge Chinese water pots, blue and white porcelain and sampan-like boats. Quilon is an inviting gateway to Kerala's backwaters. For an interesting backwater experience, take the regular ferry to Alleppey - a rigorous ride lasting more than 8 hours. As the old ferry putters from one village on the waterfront to another, you are treated to a full range of lives and activities and some of the most beautiful scenery imaginable. For the less intrepid, shorter cruises can be made in the larger comforts of the houseboats with idyllic villages such as Alumkadavu as your launch base.
The nearest airport, Trivandrum, is 71 kms. away. It takes fractionally over an hour to get to Quilon by road or rail from Trivandrum.
Veli Tourist Village: Within hailing distance of the capital city Trivandrum (Thiruvananthapuram), is the Veli - Akkulam lagoon with a delightful waterfront park growing increasingly popular among the natives and tourists alike. Only a narrow sandbar separates the lagoon from the sea. You can opt for rides in motor-driven safari launches, power boats, pedal boats or row boats. Kayaks and hovercraft attract the brave-hearted. A floating bridge and a floating restaurant add to the overall excitement. The eastern end of the lake is flanked by two scenic hillocks coming through as a perfect hiking ground. 2 kilometers from Trivandrum Airport, The Veli Tourist Village on the outskirts of Trivandrum is a delightful waterfront park which has become extremely popular with Trivandrumites. It is a nice place for tourists with young children to spend an afternoon. There is lots for the kids to do, and they will meet many of their young Kerala counterparts, all of whom will be eager to make new friends and try out their English.
The main attraction at Veli is water - a large inland lake, separated from the ocean by only a narrow sandbar. For a few rupees, rides can be had in motor-driven safari launches and power boats, or a family can drift about in a pedal-boat or a row boat. There are kayaks, and even hovercraft, for the more intrepid. While skimming over the lake, visitors will see the local fishermen readying their boats, working on their nets, or poling sand-laden barges. There is a floating bridge, and a floating restaurant too. Open every day; boat rides available until 6.00p.m., after which the lake reverts to the sole use of fishermen. For your tots, there is a tiny lake within the park, with sturdy, round "tub boats", equipped with miniature paddles. A small cafeteria serves ice-cream, cold-drinks and snacks, and the grounds are dotted with interesting climbing sculptures designed by the well-known sculptor Kanai Kunjiraman.There are pony rides, and an open air theatre. This serves as a center for cultural performances and, with the ocean as a backdrop, provides the setting for an annual arts festival. Check with the Government Tourist Office in Trivandrum for schedules of any special events. The park can be reached in a 15 minute taxi ride from Trivandrum. There are also special bus services to Veil from the city.
Tourist Village at Akkulam
Akkulam is one of the first picnic spots in the suburbs of Trivandrum City. This place is only 10 kms away from the Central Railway Station. The spot is developed on the banks of Aakkulam Kayal (lake), which is an extension of the Veli Kayal (lake). The calm and serene atmosphere and its unique natural beauty is fascinating for the tourist. The village consists of the Boat Club, Swimming Pool, Children's Park, an Anthurium Project and a Snack Bar. Swaying coconut palms and meandering waterways create a magical charm to the land. special magic of the backwaters: a great and glistening web of rivers ,canals, lakes and estuaries where time flows at a measured pace and yesterday and tomorrow merge into an ever-lasting , jade-green, today. The bluish waterways and the green land mélange to create a mood that begger description. When you first encounter the backwaters they look unreal: slow flowing watery highways meandering between palm-hung banks. Clearly, the best way to encounter these water lands is to hire a houseboat. These long, broad-beamed, boats were once rice boats carrying mounds of grain from the Kuttanad, rice bowl of Kerala, to the great voracious cities. Then a complex of roads feathered out across the State and the rice boats lost business to the trucks. This is when the bright entrepreneurs of Kerala said: "Anything Kashmir can do, we can do better!" They bought rice boats from the out-of-work owners, made stately rooms, bathrooms, open-sided lounges, and kitchens, on board; employed the original owners as captains and crew on their own boats; brought in a chef and a guide, and were in business.
You can, for instance, choose either to be part of the scene or, detachedly, away from it. Your houseboat, except when it ties up alongside in the firefly haunted night, is never so far away from the banks that you cannot share, vicariously, in the lives of the people of the backwaters. Yet, you are never really close enough to become intimately involved in their trials and tribulations. You can, with complete freedom, pick and choose your passing involvement as if you were plugged into a Virtual Reality experience. For the passengers, the backwaters' houseboat experience is a step further on the rejuvenating trail. The environment of Kerala, the atmosphere of this green State, is therapeutic in itself. Just being in Kerala, as we've said, is a health-enhancing experience. But when you experience it in the peaceful drifting of a houseboat through the backwaters, you're adding a deep dimension of serenity to your therapy.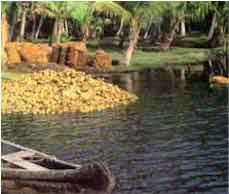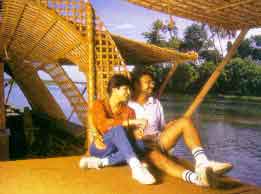 Squadrons of brown and white ducks paddle past, arrowing for little thatched-and-tiled settlements on the palm-shaded embankments. Women hang out bright pennants of washing while their husbands, with bare, bronzed, bodies, fish with rod and line, or flared filigrees of nets, or with bows and harpoon arrows, or even with spiked bamboo probes, extracting skulking crabs from water-lapped eaves of the levees. Everything here has a water-bias. The morning newspaper, an essential accompaniment to the first cup of tea, is delivered by skiff; water taxis convey spade-bearded Syrian Christian priests, school girls in blue skirts and white blouses, the fish-wives with plastic-lined baskets filled with mackerel; and a placid buffalo chewing the cud. All through the day, chug-chugging water-buses hoot and dock gently against coconut-trunk jetties; a multi-cared racing canoe flees in a flurry of spray; a fisherman in a circular straw hat bobs in his dugout, his lines stretched behind him in the late afternoon. The light softens and the sun is low and gold through the palms and you realize that you've drifted a whole day away: sipping coconut water, dining on fresh fish, crabs, steamed idles and freshly roasted bananas with the taste and consistency of baked custard. A church bell peals the evening angelus and women, with scarves draped over their heads, hurry into a backwaters church. Lights begin to appear in the thatched and tiled houses of the backwaters, a dog barks, a cow moos asking to be milked, the sun sinks in a blaze of golden glory. Constellations twinkle bright over the palms, thrusting silver starlight into the dark water.
Your houseboat nudges the bank and a boatman leaps ashore, carrying an electric lead. Soon lights and fans come alive in your floating home and crickets and frogs, disturbed by your boat, pluck up courage again and, tentatively at first, and then with increasing confidence, begin to sing their welcome to the approaching night. You fall asleep wrapped in tranquility and to a little night music from the tiny, green choristers of the backwaters. Generally, a short session of backwaters serenity is enough to cure most of the ailments of urban "civilization," but if you have deeper disabilities of the mind, the heart, and the body you can walk further on Kerala's rejuvenating path. You must seek out one of Kerala's yoga, massage and Ayurvedic healing centers.
Beaches :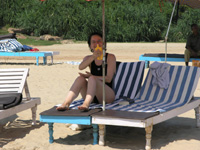 At least rumble of a turbulent sea and billowing tidal waves are used as symbols of an agitated mind. A traipse along coastal hamlets will give a whiff of Kerala's village life. Coconut groves along the coast would function as a balm to an agitated soul. Lose your heart to the mesmerizing charm of the tropical beaches such as Kovalam, Varkala, Shangumugham, Vizhinjam, Alappuzha, Kappad, Payyambalam and Bekal.


Beaches, touristy and unexplored galore along the 600 km Kerala coast
A bunch of them have historical significance too. Kodungalore coast near Kochi had been where St.Thomas, the Apostle of Christ and first missionary in Indian coast, landed. Vasco De Gama, the first European voyager, stranded at Kappad near Calicut heralding the European invasion. Sea has always been an inspiration for Malayali literati and filmmakers. Keep your ears close to the pages of Malayalam novels. You can hear roaring of sea and the poignant life on the coastal Kerala. Ace novelist, late Thakazhi had set, Chemmeen, his masterpiece, against the background of sea. Many films have coastal life as background screen.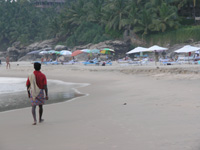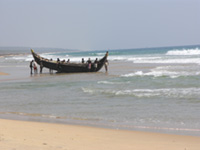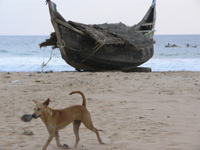 Kovalam Beach: World famous Indian beach since 1930 where foreign and domestic tourists throng. This post-card tropical beach, boarded by blue waters and lush coconut gardens, once was a haunt of hippies from European countries. Kovalam, more popular among backpacking travelers, is a western cultural dot on a traditional and orthodox Kerala physique.
"Kovalam" means a grove of coconut trees and true to its name the village offers an endless sight of coconut trees. The crescent-shaped beach has three parts. The southern most beaches, and the most popular, are light house beach. It offers an amazing sight of Vizhinjam mosque. The northern Samudra is a laidback one and time, seems and stands still here. The middle, hawah, in the early day, is a beehive of activities with fishermen setting out for sea. With a high rock promontory and a calm bay of blue waters, this beach paradise creates a unique aquarelle on moonlit nights. Azure water and favorable climate make Kovalam a favorite year-round spot for swimming. Sea, here, is pacific and shallow where you can take a dip in the saline waters. Landlubbers will get lifeguards' service. The clean white sandy beach will arouse a temptation irresistible: to lie in idle on the sands and tan the body. Feeling a spent-cartridge after aquatics and beach activities. Get into an Ayurvedic massage centre-there are many such centres- and lie down on the wooden lath for an herbal, body-toning massage. To make the visit memorable, go for a shopping in handicrafts, jewellery and cloth shops spread across the shore. Food and accommodation suiting your purse is available along the beach.
Chowara Beach: A virgin beach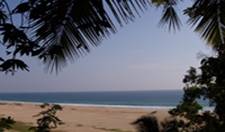 9 kms south of the renowned Kovalam Beach is the hot spot these days for the traveller. It offers a harmonious combination of nature where you can enjoy lush greeneries, whispering sea breeze and the murmering surf. And it is a "must visit" destinaation having heritage and Ayurvedic resorts like Somatheeram, Surya Samudra and Manaltheeram.
Shanghumugham Beach: A popular city beach near Thiruvananathapuram Airport.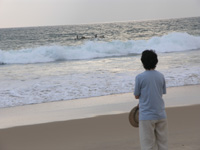 On holidays, the city comes out to the beach for a weekly refreshing. Long and wide sandy beach can accommodate tens of thousands. An indoor recreation club, children's park and a star shaped restaurant are some of the facilities at the beach. A large, enticing mermaid sculpture greets visitors. During temple festivals, the beach witnesses ritual washing of temple idols. That the beach is a fishermen village ensures an interesting sight of fishermen having their daily catch.
Varkala Papanasam Beach: Varkala spa, 42 km away from Thiruvanathapuram,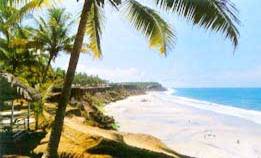 is the best spot along Kerala coast for watching sunset. The sight of the sun melting into the sea would blossom your poetic sense. During monsoon, bellowing waves engulf the beach lying beneath towering cliff and mineral water spring. The mineral water gushing from the hill is believed to have medicinal properties. The Varkala sand has become an ideal spot for confluence of cultures exotic and alien. Varkala also houses a leading pilgrim centre in Kerala. The 800-year old Janardhana temple, dedicated to Ayyappan and Hanuman, atop the hill has brought a sobriquet for the region, Southern Kasi (Benares). Non-Hindus are not permitted to enter the inner sanctum but can hang around the temple. Sree Narayana Guru (1855-1928), saint, social reformer, philosopher and leader of Ezhava community, made Varkala his headquarters. Sivagiri mutt, instituted by Sree Narayana Guru, is another major pilgrim centre here.
Bekal Beach: Bekal fort, 14 km away from Kasargode,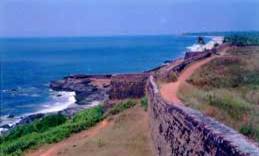 is the best preserved fort in Kerala. The seashore fort along with its premise is being designed into a major tourist resort. The fort, in its domineering position on a promontory, offers a panoramic view of palm-fringed beaches on both flanks. Shrubby hill slopes down from the fort to rugged rocks before engaging itself with a tête-à-tête with the frothy sea.A sauntering inside the fort would transport to the battle days when rival forces fought for wresting the fort, then a vantage position on Western coast. A Navel academy is nearing completion at Ezhimala, in Kannur near Bakal.
Alleppey Beach Quilon Beach Cherayi Beach (Kochi)
Hill Station: When the heat is on the plains, and the time to get away from the crowd, came for a rendezvous with nature. Inhale the bracing mountain air, relax in peace, stroll down winding paths, marvel at the beautiful views and enjoy the profusion of flowers in bloom. Kerala's exotic appeal is centered in the highland area of the Western Ghats. Rising to an average height of 1520 m, it houses rich flora and fauna.
Wayanad :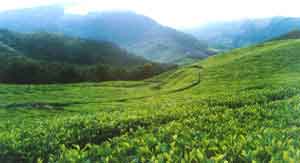 Luxuriant plantations of coffee, tea, cardamom, pepper and rubber, stretch over the hills of Wayanad as far as the eye can see. With the fast-flowing rivers - Panamaram, Mananthavady and Kabini - cutting across the undulating panorama and lending a picture-postcard look to the whole region - the north eastern tip of Kerala.
Ponmudi :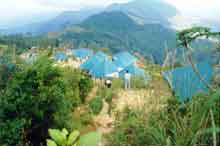 A quaint little hill station tucked away in the Western Ghats, Ponmudi is at an altitude of 1100 ft. above sea level. Lush green woods, lazily meandering streams and countless varieties of butterflies lend a strange magic to Ponmudi.
Nelliyampathy :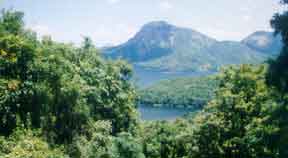 A forest ranges 75 kms. (travel time: 2 ½ hours) from Palghat, the Nelliyampathy hills comprise a chain of ridges cut off from one another by valleys of dense evergreen forests and orange plantations The height of the hills range from 467 meters to the tallest peak Padagiri looming at 1572 meters. Accessing Nelliyampathy from Palghat is a sensation on its own, as you negotiate over ahairpin curves on the ghat road passing through the fascinating jungles of the Sahya Ranges. En route, 17 kms. from Palghat, the shimmering Pothundi Reservoir and its manicured surroundings make for an ideal stop over.


Munnar :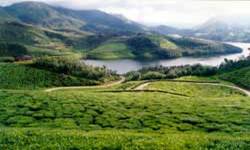 The nature-lover's paradise. Snuggling in the green and serene Kannan Devan Hills lays the quite and restful resort of Munnar, at an altitude of 1524 m and 136 km off Cochin. Panoramic views of low-flying clouds and mist filled valleys make it a pretty little heaven with a cool bracing climate. It was opened up out of virgin forests a century ago by pioneering planters. Within its remote and elderly churches - gracious, stone-structures with ancient chandeliers and rosewood pews. A little beyond lays Anaimudi, South India's highest peak. In the vicinity is the Eravikulam National Park, the home of the endangered Nilgiri Tahr that roams on a stretch of grassland or is seen climbing the pinnacles of the undulating hills. Here we can have a glimpse of a Gaur, Langur, Lion-tailed macaque, and Elephants roaming in herds.
Idukki: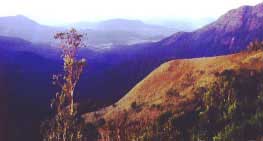 En route to Munnar, 121 kms. away from Kottayam lies Idukki, a small hill town surrounded by a spread of beautiful, wooden valleys and meandering streams. Famed for its arched dam built across the Periyar River, Idukki literally means a narrow gorge.
Devikulam:
Devikulam is a dainty town, sixteen kilometers southwest of Munnar. It consists of irresistibly green slopes touching the sky at a thousand metres and its silent clusters of slender red and blue gum trees. It has a lovely little lake hidden within the rolling hills. According to a legend, Sita Devi, the holy consort of Lord Rama, came down to frolic in the lake and the place came to be spoken about as 'Devikulam'(meaning the lake of the goddess), ever since.
Peerimade :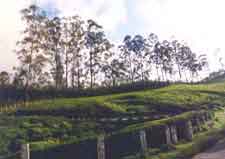 Peermade is a small hill station on the way to Thekkady. It is a fertile land at an altitude of 914 meters. Formerly the summer palaces of Travancore Rajas, this tiny and cool hill station is full of rubber, tea, coffee, pepper and cardamom plantation, interspersed with waterfalls and open grass lands.
Lakkadi :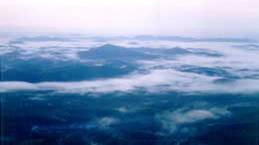 A place of great scenic beauty with picturesque hills, streams and luxuriant vegetation, one of the highest locations in Wayanad, and registers the second highest degree of rainfall in the world. 3 km from here is Pookode Lake,the natural fresh water lake, very wide and deep, one of the rare reservoirs of water in Wayanad. Surrounded on all sides by meadows and hills, it has become a favorite picnic spot.
Mangalam Dam :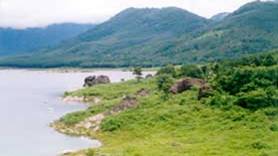 The Dam is constructed across Cherukunnapuzha, a tributary of Mangalam River. The dam is located in picturesque surroundings. The reservoir fringes on the forest area where there are deer, wild elephants and a variety of birds. There are beautiful parks and lawns adorned with statues.
Malampuzha :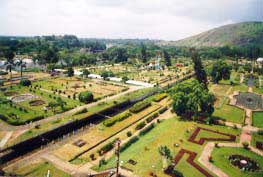 Malampuzha a major tourist attraction is in the site of a large irrigation dam built across the Bharathapuzha. The town is set at the base of the hills of the Western Ghats and around the large reservoir are beautiful rose gardens and amusement parks for children as well as facilities for boat cruises in the reservoir. The famous work 'Yakshi' done by Kerala's famous sculptor Kanai Kunhiraman is another attraction in this garden.
Wagamon :
Wagamon 64 km. from Kottayam and 34 km. from Pala, situated at an elevation of 1100 metres above sea level is a trekker's paradise. It is a very ideal tourist spot surrounded by the greenery of tea gardens, beautiful meadows, valleys and dales. Other attractions: Thangal para, lndo-swiss project, Kurisumala Ashram.
Napier Museum: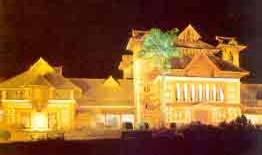 Gem of architectural exuberance, perfectly blending Chinese and Mughal styles with Kerala's traditional structural design. The ethereal beauty to the structure was added with the magical brush up of Chisholm, a 19th century architect. Strips of blue and pink alternating with yellow and red, scalloped arches of a banana yellow, elaborately carved balconies, red and white lattice work and mock friezes make an engrossing ensemble.
Location : Thiruvananthapuram
Tipu's Fort, Palghat :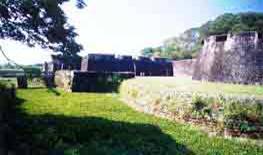 The fort in the nerve centre of Palakkad, built by Haider Ali of Mysore, dates back to 1766 A.D. Today known after Haider Ali's son Tipu Sultan. The fort still echoes the ballyhoo of those troops which barged into it to fight pitched battles. The fort was supposed to have built the fort to facilitate communication between Coimbatore and Palakkad, two vantage points.. In 1784 after a 11-days siege, Lord Fullerton, the then British Colonel, conquered the fort. Later Zamorin's troops wrested control but the British occupied the fort in 1790.
Location : Palakkad , 79km from Thrissur. Rail, road network with all centres in South India.
Shri Chitra Art Gallery :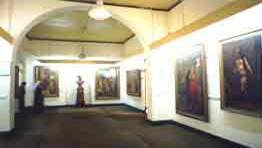 Masterpieces of Raja Ravi Varma, illustrious artist of Kerala are paraded in a different section. His works include a number of portraits of Maharajahs and members of royal family, distinguished British residents and prominent figures. A browsing of the pictures would give one a ballpark picture of who is who of Kerala history. Antiques and curios once owned by Travancore royal lineage are showed at Sree Chitra Art Gallery. Prized ones are Bengali paintings, Rajasthani, Mughal miniatures, Tanjavore paintings and selected works of Svetosku Roerich, a Russian artist. Location : Thiruvananthapuram.
St. Francis Church, Kochi :

The first European Church in India. Churches elsewhere in the country were modeled after this Portuguese construction. A mute witness to the watershed events in this coastal town, for past five centuries. Vasco De Gama, the legendary navigator from Lisbon, died at Kochi during his second voyage to Kerala. he was laid to rest in the St. Francis Church on Christmas eve 1524. Years later, his mortal remains were taken back to Portugal. The sepulcher is still preserved in the church hall and is open for visitors.
Location : Fort Kochi, Eranakulam.
Thalassery Fort:
This coastal town as a whole is a historical monument. The centuries-old city is the cradle of Indian circus. Leading circus artistes and circus companies have roots in this city. Gymnastics was introduced in schools by German missionaries here. Thalassery Fort, stand testimony for the vantage position the city enjoyed in the battles between Britain and Tippu Sulthan. The first Malayalam daily, Rajyasamacharam, was published from Illikkunu, a sleepy hamlet near Thalassery. Herman Gundert, a German missionary was instrumental behind it. His another contribution for Malayalam language was the first Malayalam Dictionary. He also established a few educational institutions, churches in Thalassery.
Location : 20km. south of Kannur.
Town Hall and Archaeological Museum :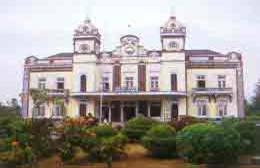 Also known as Kollengodu House, this majestic hall accommodates picture gallery with mural collections.
Location : Thrissur. Open for visitors from 10 am to 5 pm except on holidays.
Thrissur Art Museum: Among art pieces and curios displayed in the museum include wood carvings, ancient jewellery pieces and figures depicting Kathakali, the majestic dance drama. Metal sculptures and traditional Kerala lamps are also shawcased.
Location : Thrissur, 2 km from town
Kerala is an enchantingly beautiful, emerald green land, flanked by the Western Ghats on one side, the Arabian Sea on the other, and strewn with rivers, lagoons, backwaters and rich vegetation in between.
For tourist, Kerala offers Nature on a platter. Sandy beaches of Kovalam, blue Lagoons at Veli, Hill stations at Ponmudi and Munnar, backwaters of Kollam and Alappuzha, greenland plantations in the highranges, wildlife, high mountain peaks, picturesque valleys, magnificent forts and intricately decorated temples - Whatever one can ask for.
What's more, every one of these charming destinations is only maximum a two-hour drive from the other. A singular advantage, which no other destination offers.