West Bengal - The gateway to cultural heritage
West Bengal has a rich history and a heritage of many cultures. In ancient and medieval times the region was ruled by Hindu or Buddhist Kings and later on by Sultan Nawabs. The rich heritage of Bengal lies scattered everywhere and is reminiscent of Hindu, Muslim, Buddhist, Vaishnava & Christian as well as tribal cultures of North Bengal and also the western forest and hill tracts.
At the North East Himalayas stand the Kanchendzonga and her companions, all capped in snow and mystery. Around are peaks and valleys clad in evergreen coniferous trees and kissed by itinerant clouded. At the foothills is a vast texture of dense forests, rolling tea gardens, babbling rivers and sleepy hamlets. All these constitute the East Himalayas where nature is unparalleled in abundant beauty, flora and fauna. West Bengal is distinctively marked for its unique and variegated tourism resources. All over from the snow-capped peaks of the East Himalayas to the sand and surf of the Bay of Bengal, from a grand historical legacy and centuries old cultures to a modern commercialism, from a wealth of wildlife to a serene yet vibrant country life. The state has something for everyone. It is a land steeped in history, heritage and visual delights replete with enormous riches. West Bengal offers a complete tourist destination.
About Siliguri :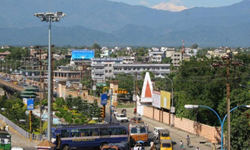 Siliguri, the second largest city of West Bengal is not just a nerve centre of North Bengal; it is the gateway to North-Eastern India. Tours to Darjeeling, Kurseong, Kalimpong, Mirik, Lava, Lolaygaon, Sikkim, Nepal, Bhutan, the Dooars region, Assam and the North-Eastern states have to originate from Siliguri. Siliguri fast emerging as a cosmopolitan city provides the best of facilities and services. The Bagdogra Airport, just 14 kms away, links New Delhi, Kolkata and Guwahati with direct flights. A helicopter service operates between Bagdogra and Gangtok in Sikkim. New Jalpaiguri (NJP), 05 kms away, is a major Railway terminal connecting almost all parts of the country including Kolkata, Delhi and the North-East with several Express/Super fast trains. Long distance bus route operate from Siliguri connecting Kolkata and the neighboring states including all major tourist destinations around. The quaint Toy Train run by Darjeeling Himalayan Railways, awarded world heritage status by UNESCO, starts its uphill journey to Darjeeling from Siliguri. Siliguri offers sophisticated telecom and internet facilities, ordinary to star category accommodations, super market, shopping complexes and eating places with North Indian, South Indian, Chinese, Tibetan and unique Bengali cuisines.
Click to View Read More
About Darjeeling :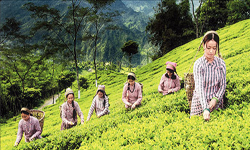 Darjeeling (1475 m), popularly knows as the Queen of the Hills, is the jewel in the crown of the Eastern Himalayas and a perfect destination for nature-lovers, trekkers and holidayers. World famous for tea and tea gardens, for the breathtaking valleys and scenery, Darjeeling also boats of the quaintest Toy Train run by Darjeeling Himalayan Railways which have been awarded world heritage status by UNESCO. Places of interest include the Lloyd Botanical Gardens, the national History Museum, Dhirdham Temple of Kathmandu, the Himalayan Mountaineering Institute, displaying the priceless mountaineering gear worn by Sherpa Tenzing Norgay, the first person to scale Mount Everest and the adjacent Zoological Park. There is also the Darjeeling Rangeet Valley Ropeway – A two km.-long journey between Darjeeling and Takvar, with a fantastic overview of hills, undulating valley and tea gardens. Tiger Hill Top, offering a breathtaking view of sunrise over Mount Everest and Kanchendzonga and Ghoom (8000 ft.) the height Railway Station in the World, 08 kms. from Darjeeling, with its beautiful Buddhist monastery containing a huge glided statue of the seated Maitreya Buddha.
About Kurseong :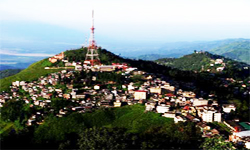 Kurseong (1475 m), en route to Darjeeling, is an excellent hill station with wonderful views of the Mt. Kanchendzonga range and the Balson valleys below. Through the vast expanse of countless mountains and valley religion flows the tempestuous river Tissta arousing in the viewers a mixed feeling of beauty and reverential fear. She also provides excellent water sports and adventure sports option like white water rafting, canoeing and kayaking.
About Kalimpong :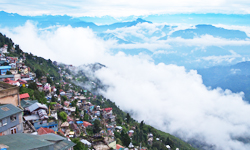 Kalimpong is the largest of the four sub-divisions of the district of Darjeeling, lies between the plains of the Dooars and the hills of Darjeeling –Sikkim Himalayas .The Kalimpong region was once a part of the Kingdom of Bhutan. In 1865, after loosing out to an armed British intervention, Bhutan ceded the territory of Kalimpong to British India. The British missionaries came in during the late 1800's and left a legacy of good schools, high educational standards, charitable institutions and English countryside. Kalimpong town and the surrounding area, with its ideal location at an average of 4000 ft. (1200 mtrs) above the sea level provides mild weather conditions throughout the year. For the visitors a 365 days year long holiday choice is available. From spring getaways to getting wet in the summer monsoon rains, from watching the rice harvest in autumn to experiencing the joys of sharing a blanket in the winter chill, Kalimpong is fast emerging as the ultimate holiday destination in the eastern Himalayas. From tropical foothills to the alpine regions around 4000 flowering plant species, including more than 400 species of orchids an ambience of flowering trees, ferns, mosses, grasses and medicinal plants are represented in the region. Floriculture is another major economic activity in Kalimpong. There are numerous flower nurseries, many of the world renowned producing plants for export and home market. Kalimpong flower nurseries present a permanent year round flower show. For discerning visitors looking for a quiet holiday in Kalimpong offers hope! Be it a family holiday, a honeymoon tripper a package group, Kalimpong is still the picture book of old world "Hill Station".
About Mirik :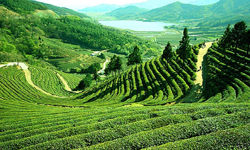 A recently developed hill station, Mirik has grown around a lovely lake named Samendu Lake with boating facilities and a minder climate. Around Mirik one can get a sweeping view of the plains as well as the snow clad Mt. Kanchendzonga and the mountains nearby Nepal border at Kawlay Dara View Point 'Rameetay'. Both the sunrise and the sunset from here present a visual delight. One can also get full view of Mirik & Samendu lake complex from Helipad & the Swiss Cottage, just 15 Minutes walk from the lake. Devisthan is very holy place of Mirik, situated inside the dense forest nearby Samendu Lake, worship of Devine tree and Shina Devi. Apart from this Tibetan Buddhist Monastery, Tamang Buddhist Monastery, Donbosco Church, Homedara Siva Mandir, Thurbo Tea Garden, Orange Garden, Orchid Nursery & Cardamom Firm, Rang Bhang Riverside Picnic Spot & Swimming pool and Manju Picnic Spot are the interesting places of Mirik.
About Lava, Lolaygaon & Rishop :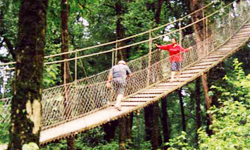 At an altitude of 2184 mts. Lava is a serene little township. Hidden in the mists & clouds, 32 km from Kalimpong Lava stands with the backdrop of Neora Valley National Park and other Himalayan Ranges – Deep Valley, Wooded Ridges, Snow Peaks and passes. Lava Monastery, Neora Reservoir Lake, Silviculture Research Station, Nature Interpretation Centre, Tiffin Dara and Ghatidara viewpoints beautiful located tea gardens are the spots for tourist attractions. A jeep ride up to the 14 kms point from Lava and an 08 kms trek through dense forest to Alubari (3200 mts) and a brisk walk takes you up to Rechila Danda (peak) at 10600 ft. the highest point of Neora valley National Park, a tri junction of West Bengal, Bhutan and Sikkim. This National Park is known for its extremely rich biodiversity including Royal Bengal Tigers, Red Panda, Gaur, Himalayan Black Deer, Clouded Leopard, Deer and others. Bird watching is the added attractions of this National Park. Some 24 kms from Lava, at an altitude of 1516 mts. Lolaygaon offers a grand view of Relli Valley and Snowcapped Himalayan Ranges. 09 kms motorable road or only 03 kms easy pleasure trek from Lava leads you to a beautiful small hamlet Rishop, nestles amidst the hidden hills of Neora Valley. Like a real paradise for the nature lovers. Its spectacular panoramic view of snowcapped Mt. Kanchendzonga and other Himalayan ranges will be a feast for your eyes and a stimulating experience for the mind.